If you're not familiar with Snapchat—the social network with more than 150 million users—here's what you need to know: a person or brand on Snapchat can send photos and videos, called Snaps, to their friends and followers. These Snaps can then be viewed for up to 10 seconds before they disappear.
Colorful filters, face-swapping effects, messaging, and other playful functions have made the app wildly successful with people of all ages. And brands are just as tuned into the benefits of Snapchat from a business perspective.
Take Starbucks, for example. The beloved coffee company launched a Snapchat chilled summer drinks campaign. Cashing in on the popularity of their scrumptious Frappuccinos. The promo gave Starbucks drinkers the opportunity to superimpose a festive lens over a picture of their icy beverage and send it to their friends.
.@Starbucks/@frappuccino has a Snapchat filter. I'm loving this. 
Snapchatters who see their friends snapping photos with the lenses may be inspired to head to their nearest Starbucks and purchase a cold drink. They will probably also add Starbucks to their list of must-follow brands on Snapchat, increasing the odds they will be inclined to drink Starbucks again in the future.
Sounds great for Starbucks. But why should you use Snapchat for your business? Read on to find out.
Bonus: Download a free guide that reveals how to easily create and use a custom Snapchat geofilter to promote your business for as little as $5.
Why your business needs to be on Snapchat
Snapchat's more than 173 million daily active users watch 10 billion videos every day. Those numbers suggest big opportunities for brands and marketers.
And if you have a social media advertising budget, Snapchat has impressive audience targeting capabilities and a variety of ad formats to choose from.
And Snapchat ads are effective.
Snapchat collaborated with MediaScience to survey 320 consumers aged 16 to 56, which compared, during 552 sessions, Snapchat video ads to those on TV, Facebook, Instagram, and YouTube. The study tested emotional responses, eye-tracking, and exit surveys.
Snapchat says its ads garnered twice the visual attention of Facebook and 1.5 times more than Instagram. They were also 1.3 times more effective than YouTube. When compared to those platforms and TV, Snapchat claims that its ads generated greater emotional response and twice as much intent to purchase.
How to make Snapchat work for your business
Snapchat offers several different paid marketing options to meet the specific goals of your business. You can create a clever Snap Ad, build a fun Sponsored Geofilter, or give your potential customers an opportunity to interact with a Sponsored Lens.
Let's take a look at the different Snapchat marketing options that will help you achieve key business objectives.
Build brand awareness with Snap Ads
Snap Ads are a great way to catch the attention of your ideal audience. A Snap Ad is a 10-second, full screen vertical video ad that appears between Stories. Advertisers can offer Snapchatters the choice to swipe up to view more in-depth content like a long form video, article, app install ad, or mobile website.
According to Snapchat, the swipe-up rate for Snap Ads is five times higher than the average click-through rate on comparable social media platforms.
Snap Ads Case Study: Popular music app Spotify purchased Snap Ads to promote their annual "Year in Music," a campaign where users can review all the songs they listened to on Spotify that year. Spotify's Ads popped-up on Snapchat's Discover channel, highlighting a different music genre every day. As a result, Spotify earned 26 million total views and a 30 percent increase on subscriber intent.
Promote engagement with Snapchat Geofilters
Snapchat has two types of custom Geofilters that businesses can take advantage of: On-Demand Geofilters, which start at $5, and the much pricier option of Sponsored Geofilters, which can cost hundreds of thousands of dollars.
Geofilters have proven to be a highly effective method of bringing in new business. They are small art graphics that show up over a Snap. When Snapchatters in the location of your choice take a Snap, they'll be able to select your Geofilter and use it to explain where, when, and why they took the Snap.
For example, if your taco truck is having a Cinco De Mayo special event, users can take Snaps of themselves eating tacos and add your fun geofilter to let their friends know where they are and who's tacos they are enjoying. In this case, a relatively inexpensive On-Demand Geofilter will suffice.
Bonus: Download a free guide that reveals how to easily create and use a custom Snapchat geofilter to promote your business for as little as $5.
If your campaign is less location-specific, say you sell staplers and decide to start a National Stapler Appreciation Day, then Snapchat users all over the country can take Snaps of themselves appreciating their staplers and add your filter over it.
This is a highly effective strategy.
According to Snapchat, in the U.S., a single National Sponsored Geofilter typically reaches 40 to 60 percent of daily Snapchatters—which is why they can cost hundreds of thousands of dollars.
Sponsored Geofilter Case Study: When non-profit organization RED wanted to spread the word about World AIDS Day, they partnered with Snapchat to create three Geofilters people could use to show their support. Each time a Snapchatter sent one of the Geofilters, the Bill & Melinda Gates Foundation donated $3 to RED's fight against AIDS, up to $3 million.
The campaign reached over 14 million Snapchatters, 97 percent of whom were between the ages of 13 and 34. Over two-thirds of Snapchatters who saw the Geofilter correctly remembered RED's campaign message and those who saw the filter were 90 percent more likely to donate to the RED campaign.
Drive increase in purchase intent with Snapchat Sponsored Lens
Sponsored Lenses offer users the opportunity to play with the interactive ad you've created. As Snapchat explains on their website, "To activate Lenses, Snapchatters simply press and hold on their faces. Some Lenses include prompts like 'raise your eyebrows' to trigger an animation, adding a fun twist to the experience. And when you're finished playing, it's easy to send Lenses to a friend or post one to your Story. On average, Snapchatters play with a Sponsored Lens for 20 seconds."
Got tacos on your mind today? Us too. Snap us your Cinco de Mayo celebrations using our @Snapchat lens today.
If you sell beagles and have always wondered what your face would look like in beagle form, Sponsored Lenses is your chance to find out.
Sponsored Lenses case study: Delightful sports beverage Gatorade created a filter that mimics the classic Gatorade showers that football coaches enjoy when their team wins. During Super Bowl 50, NFL fans could experience the Gatorade shower virtually from the dry comfort of their smartphones. Snapchatters went crazy for it.
The lens received over 165 million views and triggered an eight point increase in purchase intent. Users were ready to enjoy their victory with a cold glass of lemon-lime.
The bottom line about using Snapchat for business
Snapchat now offers the option to work with one of their Creative Partners(advertising agencies) to create a campaign. The extra expenditure might be worth it to design something more effective than what you can dream up in-house.
Snapchat's video ads have so far been priced on a cost-per-thousand-impression rate in the $40 to $60 range, per Adweek. Marketers can expect both API videos and the newly launched Snap Ads Between Stories to be less expensive, though special events like national holidays will likely hike up prices due to the supply-and-demand forces in the auction-based system.
Snapchat and its API partners haven't said what the new ads platform means for the app's branded Geofilters and Lenses. For now, their focus is on video ads, but it is easy to anticipate sponsored Lenses and Geofilters being added to the Snapchat Partners mix—there is an incredible amount of money to be made. Adweek has previously reported that Snapchat lenses cost $450,000 and can total $750,000 for big-ticket days like holidays or events. Big brands with money to spend find it to be worth the investment.
How to grow your Snapchat following (for free)
If you're not quite ready to take the plunge and put your ad budget toward Snapchat, there are still many great ways to use Snapchat for business without spending a dime.
Our guide to getting more Snapchat friends has all the best tips and strategies on that front.
Tell a great story
Snapchat Stories are compilations of images and short videos that last for 24 hours. Users want to share the best stories with their friends regardless of origin, so businesses of all sizes have an equal opportunity to get traction with a compelling, creative narrative.
For example, candy company Sour Patch Kids wanted to attract more teenage customers. They sent cute characters "Sweet" and "Sour" on an adventure with Millennial-friendly internet personality Logan Paul. Their goofy Snaps told a story of Sour and Sweet embarrassing Paul and eventually one of them getting lost in the big city.
With each piece of the story, interest in the campaign grew. Sour Patch Kids earned 583,000 views on their first Story with Paul, and by their fifth Story they had captured more than 6.8 million Story Views. Hilarity ensued, and Sour Patch Kids walked away with 120,000 new Snapchat followers through this campaign. If you've got a knack for telling stories, this may be the best route for your company.
Offer incentives
Sharing coupons on Snapchat is a brilliant way to build brand loyalty. Snaps disappear after you've watched them, and stories only last 24 hours. Much like a radio campaign forces listeners to stay tuned for the "cue to call," a Snapchatter has to vigilantly follow your business on Snapchat and act quickly if they want the coupon or deal you are offering.
Food delivery service, Grubhub hosted a week-long scavenger hunt contestdubbed "SnapHunt," a first for any brand on the platform. Each day for one week, GrubHub posted a new challenge for followers to complete for a shot at $50 in free takeout. More than 30 percent of GrubHub's Snapchat followers participated and the brand saw an increase of 20 percent in followers during the contest.
Recruit top talent
If your business is hiring, Snapchat can be a great tool to let people know you're looking. Last year, AOL decided they wanted to increase the number of Millennial women on staff.  Rather than turn to Twitter or Facebook, they decided to use Snapchat. To reach their goal, AOL ran two 10-second Snapchat videos in the app's Discover section and Live Stories.
The first promoted #BuiltbyGirls, a program that invests in women-led startups. The other ad showed footage of people working at AOL. According to Snapchat, the week-long campaign reached 8 million users and generated 17 million views, lifting application intent by 18 percent.
Snapchat for business is only going to get more popular. Predictive marketing service eMarketer projected that Snapchat will grow 27 percent in 2016 to nearly 59 million users in the U.S. alone. Despite these resounding statistics in favor of Snapchat, most businesses are arriving slow to the party. Social media researcher, L2 found that in the majority of industries, Instagram adoption is ubiquitous, but Snapchat is still a point of differentiation.
So now is your chance to get ahead of the curve and strike while the iron is hot! If you're all in, but need help bringing your employer on board, check out our post about how we pitched Snapchat to our boss. And then once you get familiar with the platform, learn all the hidden features and tricks to take your Snapchat game to the next level.
Hootsuite's on Snapchat! Click this link on mobile to go directly to Hootsuite's profile or scan the Snapcode below to add Hootsuite as a Friend on Snapchat.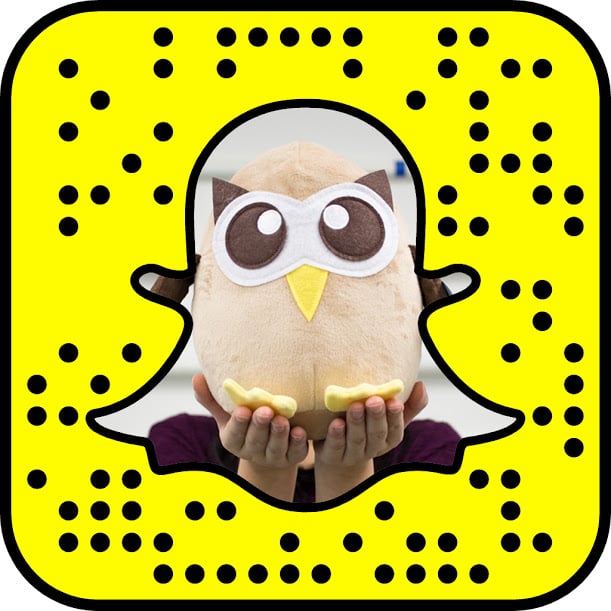 By: Sydney Parker